The
XJ-7
is an experimental aircraft.  The XJ-7 was capable of being assembled or dissambled quickly.  According to
Larry Stover
, a pilot and engineer working on the XJ-7 project, a crew of six could disassemble and crate the XJ-7 in ten minutes.  The cost to develop the XJ-7 was $15,000,000.
Theft of the XJ-7
Astronaut and test pilot Kelly Wood was flying the XJ-7 when Dr. Martin Davis used laser technology to force her to land the XJ-7.  Dr. Davis was secretly working with Larry Stover in the theft of the aircraft.  Kelly Wood was implicated in the disappearance of the XJ-7 until Steve Austin helped her recover it.  (SMDM: Nightmare in the Sky)
Real World
The plane used for the XJ-7 is a
TT-1 Pinto
trainer.  Temco Aircraft of Dallas, Texas built the Pinto for the U.S. Navy to serve as a primary jet trainer.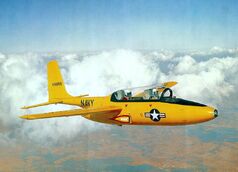 Ad blocker interference detected!
Wikia is a free-to-use site that makes money from advertising. We have a modified experience for viewers using ad blockers

Wikia is not accessible if you've made further modifications. Remove the custom ad blocker rule(s) and the page will load as expected.