(1914-18)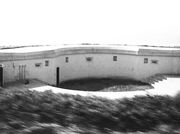 Jul 28, 1914 - Austria-Hungary invades Serbia. World War I commences.
1914 - German U-boats are launched. U-boats including U-509 will make their way into World War II and The Bionic Era ("U-509").
Chemical weapons is a major component during World War I. Chemical and biochemical weapons will continue to be employed in World War II and The Bionic Era ("Wine, Women and War", "U-509").
Oct 31, 1914 - Fort MacArthur is created as a training center during the World War I (referred to in "The Pyramid").
Ojai the town - Owing to anti-German sentiment during the World War I, some German and German-sounding place names in the US are changed. The town Nordhoff is renamed Ojai in 1917. Since then, Ojai is used to indicate both Ojai town, California, the home town of Steve Austin and Jaime Sommers, and the Ojai Valley, the larger area in which the town is situated.
During the World War I, the grandfather of student Andrew fights and contributes to the victory of the Allies ("Canyon of Death").
Nov 11, 1918 - The armistice. World War I concludes.
Ad blocker interference detected!
Wikia is a free-to-use site that makes money from advertising. We have a modified experience for viewers using ad blockers

Wikia is not accessible if you've made further modifications. Remove the custom ad blocker rule(s) and the page will load as expected.