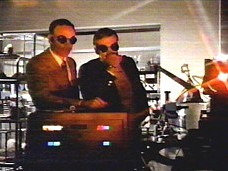 The
wireless laser
is a hi-powered portable laser developed by Dr.
Samuel Abbott
.  According to
Oscar Goldman
the light and power source for the wireless laser is a "synthesis of chemical activity" similar to the biological process that enables a firefly to produce light. 
Steve Austin
recognized that diode injectors were critical components of the laser device. 
Dr. Abbot's work on the wireless laser was interrupted when his assistant, John Belson, dupes him into developing the laser project for a hostile power.  Steve Austin sabotages the wireless laser machine that Belson hoped to steal by removing a transistor.  After Steve Austin and Susan Abbott rescued Dr. Abbot, he resumed work on the wireless laser in his lab at MIT.