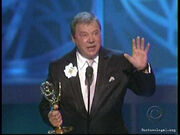 Canadian actor William Shatner is best known for playing Capt. James T. Kirk in the original Star Trek TV series. In the 10-year interregnum between the cancellation of Star Trek and its revival in 1979, Shatner paid the bills by appearing in many guest-starring roles on TV series, including The Six Million Dollar Man. The Star Trek films revived his career and he went on to star in T.J. Hooker and, later, garnered praise and awards for playing eccentric lawyer Denny Crane in Boston Legal for five seasons. Despite the fact he turned 80 in 2011, Shatner has not let age slow him down. In 2010 he took a lead role in his first sitcom, $#*! My Dad Says, while at the same time hosting two documentary series - Weird or What? and Aftermath - and a talk show, Raw Nerve.
External Links
Ad blocker interference detected!
Wikia is a free-to-use site that makes money from advertising. We have a modified experience for viewers using ad blockers

Wikia is not accessible if you've made further modifications. Remove the custom ad blocker rule(s) and the page will load as expected.