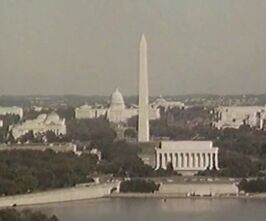 Washington
, located roughtly midway along the east coast of the United States in the
District of Columbia
, is the seat of the United States Federal Government. Since the
OSI
is a subdivision of the Executive Branch of the Federal government, Washington is the home of OSI headquarters.
Known residents
While not specifically established in an episode, it is assumed by his frequent presence at OSI headquarters that Oscar Goldman has a residence either in the District proper or in one of the outlying communities in Maryland or Virginia. Steve's OSI identification card established him to have an official residence at the fictional Washington address of 13537 Federal Street. (Operation Firefly, The Last Kamikaze)
Known ports
Washington was serviced by the civilian Dulles International Airport (Survival of the Fittest) and Andrews Air Force Base.
Deconstructed
External link