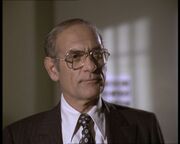 Warden Cooper runs the Delaware Federal Penitentiary. He is convincingly manipulated by Dr. Harkens and Weber to believe Lisa Galloway (with a surgically altered face exactly matching Jaime Sommers) is mentally unbalanced, whereas she is in fact the real Jaime Sommers, who has been kidnapped and brought to the prison in Lisa's place and trying to prove her true identity.
Although Cooper met briefly with Jaime, he yields to Dr. Harkens' advice and authorizes the immediate facial reconstruction of the convict whom he believes to be Lisa Galloway.
The Warden does contact Oscar Goldman to update him on the situation, and inform him of the impending operation. However, when Jaime escapes, Cooper believes that it is Galloway and takes an active role in coordinating the search. But it is Oscar that provides the tip where to find her. Cooper tries to negotiate her surrender, but is forced to call Oscar to come to the scene. When Oscar is convinced it is Jaime, Warden Cooper can only apologize.
Appearances
Ad blocker interference detected!
Wikia is a free-to-use site that makes money from advertising. We have a modified experience for viewers using ad blockers

Wikia is not accessible if you've made further modifications. Remove the custom ad blocker rule(s) and the page will load as expected.