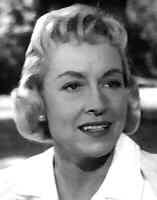 Appeared as Sarah
Biography
Virginia Gregg (b. March 6, 1916 - d. September 15, 1986) first appeared on film in an uncredited role in the Alfred Hitchcock film, Nortorious (1946). Appearing in nearly forty films throughout her career, her most notable role was as the voice of "Norma Bates" in Psycho (1960), Psycho II ((1983), and Psycho III (1986).
Gregg was often associated with Jack Webb's various productions. She appeared in every incarnation of Dragnet (radio, television, and film), as well as Adam 12 and Emergency!, among others.
External Links
Ad blocker interference detected!
Wikia is a free-to-use site that makes money from advertising. We have a modified experience for viewers using ad blockers

Wikia is not accessible if you've made further modifications. Remove the custom ad blocker rule(s) and the page will load as expected.