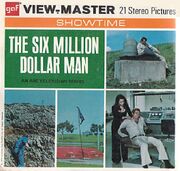 The Six Million Dollar Man View Master used a disk with multiple slides attached in a circular format (referred to as a "reel") to convey a story. By placing the disk into the device, and pulling down on its arm, it allowed the viewer to advance the reel to visuualize the story. Additional reels were sold separately.
Ad blocker interference detected!
Wikia is a free-to-use site that makes money from advertising. We have a modified experience for viewers using ad blockers

Wikia is not accessible if you've made further modifications. Remove the custom ad blocker rule(s) and the page will load as expected.