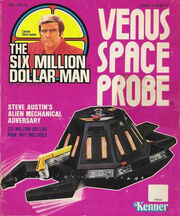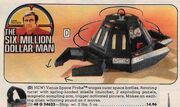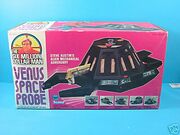 The Venus Space Probe was a toy in the Kenner line of officially licensed Six Million Dollar Man products. It was billed as "Steve Austin's alien mechanical adversary", and meant to be used in conjunction with the Steve Austin doll.
Inspired by by the titular antagonist of
SMDM
: "
Return of Death Probe
", it mimicked most of the functionality of
Irina Leonova
's
device seen on screen
. It had several moveable parts, including a spring-loaded missile launcher, rotating turret, magnetic sampling arm and exploding panels. Furthermore, the front pincers could be activated by a lever on the rear of the toy, and its wheels made a distinctive noise as it was moved.
The device was a somewhat inaccurate replica. Not only was the toy out of scale with the Steve Austin doll — compared with Lee Majors' relative size to the televised prop — it also was of a somewhat different overall design to its onscreen counterpart.