Brownstone Street
Appeared In
The Six Million Dollar Man
Collapsing Bridge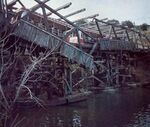 The collapsing bridge has featured as part of the Universal Studio Backlot Tour since 1974. The driver "accidentally" takes the tram over the bridge, at which time it begins to creak. Massive timbers fall away near the midpoint, causing the bridge to "drop" the tram a foot or so. Hydraulic systems are used to move the bridge and various collapsing elements, and then restore them, under the control of a computer system. Visits to this attraction were suspended in 2006 due to age-relatd wear and maintanence costs. In 2008, the Bridge returned as part of the tour, with the driver "accidentally" taking the tram onto an active set in which the bridge is about to be exploded. [1]
Appeared In
The Six Million Dollar Man
The Bionic Woman
Flash Flood
Appeared In
The Bionic Woman
Ice Tunnel
Appeared In
The Six Million Dollar Man
The Bionic Woman
Note: this now is part of the Mummy's tomb, and is painted a sandstone color.
Stage 6
Scenes from the Six Million Dollar Man were filmed inside this sound stage [2]
Stage 30
While currently used for the "Backdraft Attraction" on the Studio lot, both the Six Million Dollar Man and The Bionic Woman filmed in Stage 30[3].
External Links
References
Ad blocker interference detected!
Wikia is a free-to-use site that makes money from advertising. We have a modified experience for viewers using ad blockers

Wikia is not accessible if you've made further modifications. Remove the custom ad blocker rule(s) and the page will load as expected.