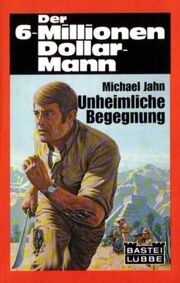 Michael Jahn: Unheimliche Begegnung
German translation of: The Rescue of Athena One
Translated by: Ekkehart Reinke
Published by: Bastei-Lübbe, Bergisch-Gladbach (Germany)
Year of Publication: 1978
ISBN: 3-404-01076-0
Price: DM 3.80
Blurb: Steve Austin, der Sechs-Millionen-Dollar-Mann, ist der Held der gleichnamigen amerikanischen Fernsehserie, die zu den erfolgreichsten Serien zählt, die je gedreht worden sind.
Geheimberichten zufolge wurden in der Nähe von Cap Kennedy UFOs gesichtet. Steve Austin geht diesen Berichten nach - und trifft auf Besucher aus dem All. Die Fremden kommen in friedlicher Absicht, doch zwei Männer mußten den Kontakt mit ihnen bereits mit dem Leben bezahlen. Wird Steve Austin das dritte Opfer?
Notes
The cover art is the same as that used on the UK Mayflower Books paperback edition of the Martin Caidin Cyborg-series novel, High Crystal. As such, although it shows a likeness of Lee Majors as Steve Austin, his left arm is shown to be bionic, not his right as seen on TV, in keeping with how Caidin established his version of the character (although novelist Jahn also used Caidin's version when adapting the TV episodes).