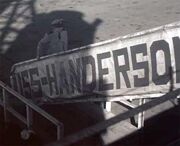 The USS Handerson was a US naval vessel that had put into Pearl Harbor, Hawaii for repair just prior to the Japanese attack on 7 December 1941. It sustained comparatively minor damage in the attack, and was rushed back to seaworthiness. It continued to serve in the US Navy for another 36 years.
Sam Goldman, a naval lieutenant on a secret mission, was killed by straffing bullets moments a few minutes after the attack began. His corpse remained in a little-used part of the ship for 36 years, only to be discovered when the decommissioned Handerson was undergoing salvage operations at the San Pedro shipyard in about 1977.
Along with Goldman, the ship was home to the object of Sam's secret mission: a briefcase containing $250,000. An effort to retrieve the cash probably caused the ship to sink before the salvage operation was completed. (Iron Ships and Dead Men)
Deconstructed
No ship with name Handerson has ever served the US Navy.
It is unclear what class of ship the Handerson was.
Ad blocker interference detected!
Wikia is a free-to-use site that makes money from advertising. We have a modified experience for viewers using ad blockers

Wikia is not accessible if you've made further modifications. Remove the custom ad blocker rule(s) and the page will load as expected.