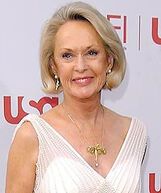 Biography
Nathalie Kay "Tippi" Hedren (January 19, 1930 - ) moved to New York at the age of eighteen and began a career as a professional model.[1] Her first credited role as an actress was the part of "Melanie Daniels" in Alfred Hitchcock's The Birds (1963). Hedren earned a Golden Globe for "Most Promising Newcomer" for her performance in the movie. She again worked with Hitchcock, playing the title character in the film Marnie (1964). Since then, she has worked in both film and television.
Hedren shares many traits with the character she played in the Bionic Woman episode "Claws". Hedren is an ardent animal lover, and became involved with conservation groups to save wildlife as a result of her film, Satan's Harvest (1970).[2] She is founder and President of "The Roar Foundation", which seeks to protect exotic animals. Hedren also established the Shambala Preserve, located near Acton, California. Shambala is home to lions, tigers, and leopards, as well as Hedren herself.
External links
Ad blocker interference detected!
Wikia is a free-to-use site that makes money from advertising. We have a modified experience for viewers using ad blockers

Wikia is not accessible if you've made further modifications. Remove the custom ad blocker rule(s) and the page will load as expected.