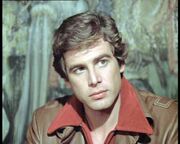 Tim Sanders, 29, is a former international race car champion. He is hired by Oscar Goldman, under the pseudonym Oscar Bartholomew, to drive in the Dasht-i-Ravar International Race -- allowing agent Jaime Sommers to recover a missing tape containing state secrets.
Fast Facts
Sanders won 4 consecutive Grand Prix races - all before age 25
Suffered a near-fatal crash in Indianapolis four years ago. Since then, has frequent periods of self-doubt.
Has had some bad luck in recent years, and difficulty acquiring a sponsor.

Has claimed for years that he has a Japanese firm that is going to sponsor him.
Appearances