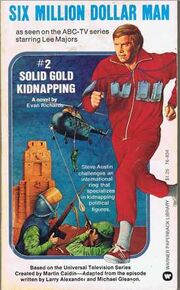 The Solid Gold Kidnapping was the second novel in the numbered Six Million Dollar Man range of paperbacks, published by Warner Brothers. It was adapted by Evan Richards. It contained the novelization of the Alan Caliou and Larry Alexander-penned telemovie, The Solid Gold Kidnapping. Some editions such as the Warner paperback (illustrated), drop the "The" from the title.
Ad blocker interference detected!
Wikia is a free-to-use site that makes money from advertising. We have a modified experience for viewers using ad blockers

Wikia is not accessible if you've made further modifications. Remove the custom ad blocker rule(s) and the page will load as expected.