This article is about the non-fiction book. You may be looking for the telemovie Return of the Six Million Dollar Man and the Bionic Woman.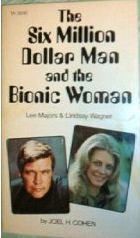 The Six Million Dollar Man and the Bionic Woman: Lee Majors & Lindsay Wagner is a non-fiction, biographical book by Joel H. Cohen that was published in 1976. Produced by Scholastic Book Services, a company that produced books for elementary school-aged audiences, this book relates the history of The Six Million Dollar Man as a TV series, and its spin-off, The Bionic Woman, and also includes biographical information on the two lead actors, Lee Majors and Lindsay Wagner. The book was published in paperback only and runs 107 pages. It is the earliest known book devoted to the history of the two programs, predating The Bionic Book by more than 30 years.
When Majors and Wagner hosted "Bionic Blowout", a special showing of Six Million Dollar Man and Bionic Woman episodes on the Sci-Fi Channel, they did so sitting next to a table of memorabilia. One item prominently displayed is a copy of this book.
Ad blocker interference detected!
Wikia is a free-to-use site that makes money from advertising. We have a modified experience for viewers using ad blockers

Wikia is not accessible if you've made further modifications. Remove the custom ad blocker rule(s) and the page will load as expected.