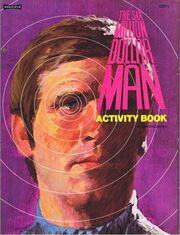 The Six Million Dollar Man Activity Book, published by the Saalfield Publishing Company of Akron, Ohio in 1975, was a licensed children's book issued to tie in with The Six Million Dollar Man. In its pages are a variety of activities for children, including coloring pages, connect-the-dots, paint-by-numbers, mazes, word search puzzles, jigsaw puzzle, and "The Six Million Dollar Man TV Theater", which allowed readers to create their own episode by cutting out a series of illustrated story strips and threading them through a simulated movie screen.
One interesting aspect of the book is that it features one page with cut-out paper dolls of Austin and an unidentified woman, both dressed in tennis apparel, and another page showing Austin sky-diving with a young woman. The activity book would appear to either predate the introduction of tennis-playing, sky-diving Jaime Sommers, or it was decided not to refer to her by name (possibly due to another company having the rights to publish activity books based upon The Bionic Woman).
The cover art for this publication features the Six Million Dollar Man logo as used in the telefilm Wine, Women and War, and features a painting of Lee Majors as Austin, but it erroneously shows Austin using his right eye as bionic, rather than his left. Coincidentally, Austin, as depicted on the cover, strongly resembles actor Ben Browder who would, decades later, portray Lee Majors in a telefilm.
At least one additional edition of this book was published by the same company, although based upon scans posted online[1] the interior of the book differs from that of the previous edition, although it still retains the "Wine, Women and War" logo used previously.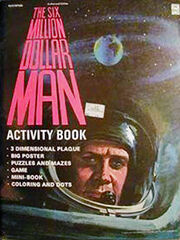 Ad blocker interference detected!
Wikia is a free-to-use site that makes money from advertising. We have a modified experience for viewers using ad blockers

Wikia is not accessible if you've made further modifications. Remove the custom ad blocker rule(s) and the page will load as expected.