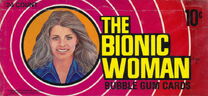 Published in 1976, a set of 44 bubble-gum trading cards published by Dunruss Playoff L.P. - responsible for manufacturing a range of candy and bubble gum products and issuing sets of trading cards in the 1970's primarily based on pop-culture phenomena such as the film Saturday Night Fever, television's Bionic Woman, and rock and rollers Elvis Presley and Kiss.
Each wax box of The Bionic Woman bubble gum cards came with 24 packs, and each pack contained 4 cards and a gum. Cards have a full image on the front, with a number and caption, and puzzle pieces on the back. You can make 2 puzzles with the set. First one is made of 20 cards and represents Jaime in action (same as card number 6), and the other one uses the 24 remaining cards , and shows Jaime in a locomotive (same as card number 27).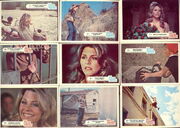 Ad blocker interference detected!
Wikia is a free-to-use site that makes money from advertising. We have a modified experience for viewers using ad blockers

Wikia is not accessible if you've made further modifications. Remove the custom ad blocker rule(s) and the page will load as expected.