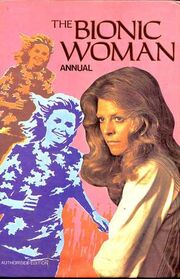 The Bionic Woman Annual 1977 was a hardcover book for children published in the UK in 1976. Originally retailed for £1.25.
As with other annuals of the period, the book contains a mixture of original comic strips, short stories, and activities for younger readers:
The Bionic Woman: Kidnapper's Strike (comic)
Lindsay Wagner - Alias The Bionic Woman (actress profile)
Guide to the Bionic Woman's Powers
Hijack (short story featuring Jaime Sommers)
Anything You Can Do (photos of Lindsay Wagner lifting a mini-cooper and asking the question how does she do it)
Bionics - Yesterday's Dreams ... Tomorrow's Realities (story on real life bionics)
Race Against Time (board game)
The Bionic Woman: The Heavy Mob (comic)
The Bionic Woman Quiz
Richard Anderson - Alias Oscar Goldman (actor profile)
O.S.I. Base Maze (game)
The Big Payoff (short story featuring Jaime Sommers)
Pictures to Paint
Seeing is Believing (short story featuring Jaime Sommers)
Anything You Can Do - how it's done (reveals the mini-cooper was lifted by an hydraulic jack)
The Bionic Woman: Secret of the Mountains (comic)
Interspersed are several full page photos of Lindsay Wagner as Jaime Sommers.
Ad blocker interference detected!
Wikia is a free-to-use site that makes money from advertising. We have a modified experience for viewers using ad blockers

Wikia is not accessible if you've made further modifications. Remove the custom ad blocker rule(s) and the page will load as expected.