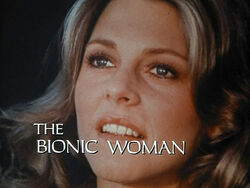 The Bionic Woman was the title that was also used in many non-English speaking countries where the series was mostly aired in its English original version (and sometimes foreign subtitles).
Countries
Finland (with Finnish subtitles)
Indonesia (unknown)
Republic of South Africa (with Afrikaans dubbing)
Finnish Opening Subtitles
"Erittäin salainen
Jaime Sommers,
Entinen Tennistähti
Ammatti: Opettaja
Vakavat vammat:
Jalat, oikea käsivarsi ja korva
Leikkaus: Bionisia implantteja
Oscar Goldmanin luvalla
Kustannusarvio: Salainen"
Ad blocker interference detected!
Wikia is a free-to-use site that makes money from advertising. We have a modified experience for viewers using ad blockers

Wikia is not accessible if you've made further modifications. Remove the custom ad blocker rule(s) and the page will load as expected.