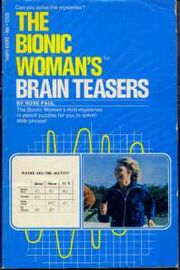 The Binic Woman's Brain Teasers, written by Rose Paul, is a paperback-sized activity book for children and teens published by Tempo Books in 1976.
The puzzles in this book are primarily logic puzzles built around a series of mini-adventures featuring Jaime Sommers. By using logic, process of elimination, and other tricks, readers solve the puzzles in order to resolve the various missions.
The book features a number of black and white images of scenes from The Bionic Woman, with the color cover photo of Lindsay Wagner originating from the Six Million Dollar Man episode "The Bionic Woman"
Tempo Books published a number of puzzle activity books based upon The Six Million Dollar Man in 1976, but this was the only book of the series to be based upon The Bionic Woman.
Ad blocker interference detected!
Wikia is a free-to-use site that makes money from advertising. We have a modified experience for viewers using ad blockers

Wikia is not accessible if you've made further modifications. Remove the custom ad blocker rule(s) and the page will load as expected.