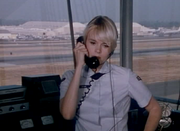 An american actress who appeared as Airman Jill Denby in the second season episode "Pilot Error".
Also credited as Susan Zenor, she had a prolific career in the 70's, and she is best known for for audiences for her role of Margo Anderman Horton on "Days Of Our Lives". Her first features included "The Moonshine Wars", "Play It Again, Sam" and "The Baby", the latter considered by many her most iconic role.
The rest of her credited roles consisted in guest appeareances in shows like "McMillan & Wife", "Love, American Style", "M*A*S*H", and "Barnaby Jones". She also appeared in ABC's original pilot to "Three's Company", but eventually, the role went to Suzanne Somers. She was married was married to Edward Mallory and retired from acting in 1980.