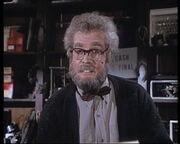 This bizarre character appears in a the Six Million Dollar Man episode, "Steve Austin, Fugitive", tending an electronics shop that Callahan visits. The actor who plays the role is credited as "L. Majors", but appears to be none other than Lee Majors himself, playing a gag double-role under heavy make-up, including a wig and false teeth.
Appearances
Ad blocker interference detected!
Wikia is a free-to-use site that makes money from advertising. We have a modified experience for viewers using ad blockers

Wikia is not accessible if you've made further modifications. Remove the custom ad blocker rule(s) and the page will load as expected.