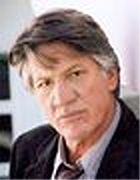 Stephen Macht (b. 1942) is best known for his television work, with his appearance in the "backdoor pilot" episode of The Six Million Dollar Man, "The Ultimate Imposter", happening early on. Although it failed to become a series, Macht found no shortage of work in the coming years, playing roles ranging from the male lead in the cult SF film Galaxina to a recurring role on Cagney & Lacey, to playing a character in the videogame Zork: Nemesis. He is also one of many SMDM actors to appear in the Star Trek franchise. More recently, he spent several years on General Hospital and guest-starred on Castle.
Guest Starred as Joe
Biography
External links
Ad blocker interference detected!
Wikia is a free-to-use site that makes money from advertising. We have a modified experience for viewers using ad blockers

Wikia is not accessible if you've made further modifications. Remove the custom ad blocker rule(s) and the page will load as expected.