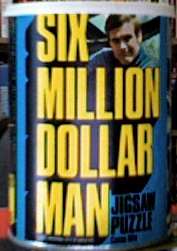 In 1975, the American Publishing Corp. of Watertown, Mass. produced several jigsaw puzzles based upon The Six Million Dollar Man, which have become collectables over the years.
Several different 200-piece puzzles were issued featuring artwork of Steve Austin in action (each cylindrical box cover also included a photo of Lee Majors). One shows Austin attacking gun-wielding thugs with a radioactive barrel, while the other shows Austin lifting a car away from an imperiled blonde. This second example is unusual as it appears to show Austin using both arms bionically.
Ad blocker interference detected!
Wikia is a free-to-use site that makes money from advertising. We have a modified experience for viewers using ad blockers

Wikia is not accessible if you've made further modifications. Remove the custom ad blocker rule(s) and the page will load as expected.