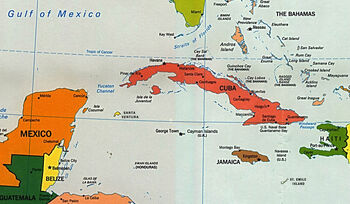 Santa Ventura
is a fictional Caribbean nation, featured in the episode "
Act of Piracy
", which abruptly breaks off all relations with the United States. An American science ship is steered within the country's 12-mile marine limit by a crewmember sympathetic to Santa Ventura, giving the Venturans the excuse to seize the ship.
The science vessel was placing earthquake sensors on the ocean floor, but the Venturan coast guard officer assumes the devices were meant to spy on his country.
Known Santa Venturans
Deconstructed
Santa Ventura is obviously located in or around the Caribbean.
The citizens of Santa Ventura are Spanish speaking.
The political situation between Santa Ventura and the United States is tense.  During the mission, Santa Ventura breaks off diplomatic relations with the U.S.  Santa Ventura's politics could be influenced by Cuba.
A key piece of information is given by the original mission.  Steve Austin is assiting Louis Craig and Sharon Ellis with the placement of earthquake sensors in the ocean.  There is a fault line that separates the Caribbean plate from the North American plate.  The northern edge of the Caribbean plate is a fault line that runs between Cuba and Central America.  It is reasonable to assume that the scientific expedition could be working in this area. 
Ad blocker interference detected!
Wikia is a free-to-use site that makes money from advertising. We have a modified experience for viewers using ad blockers

Wikia is not accessible if you've made further modifications. Remove the custom ad blocker rule(s) and the page will load as expected.