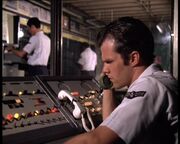 The Radio Man works in the Communications Center at the Ventura Air Force Base. His additional duties include monitoring security measures as preparations are made for classified tests of the OSI's new technology. In performing his job duties, the Radio Man follows all protocols and is efficient in his efforts to connect calls.
Despite adhering to procedures, he unwittingly connects Briggs through an outside line to John Mallory, allowing the them to further plot the theft of the Flying Suit.
Appearances
Ad blocker interference detected!
Wikia is a free-to-use site that makes money from advertising. We have a modified experience for viewers using ad blockers

Wikia is not accessible if you've made further modifications. Remove the custom ad blocker rule(s) and the page will load as expected.