The Princess Louise was a passenger cruise liner on which Jaime Sommers once had to pose as a casino card dealer.
Captained by Lucky Harrison, the ship was the target of an OSI investigation in a case involving missing energy cells. But for the intervention of Jaime and Romero, the boat would likely have been blown up by the Ice Man.
It is unclear what route the boat normally took. However, it is known that at least one of its ports of call was San Raton. (Assault on the Princess)
Deconstructed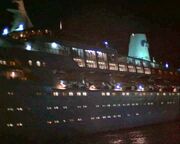 While the name Princess Louise can clearly be seen in the background of shots while the boat was moored at Puerto de San Raton, long shots of the vessel show the Princess Cruises logo. Moreover the long shots establish the ship as a proper cruise ship of the same class as the "The Love Boat". The real life Princess Louise, however, was a British Columbia coast steamship that bore little resemblance to the original Pacific Princess seen on The Love Boat, and certainly wasn't part of the Princess Cruise Line. Instead it was part of a different group of "Princesses" operated by the Canadian Pacific Railway. While in service, these "Princesses" plied the waters between Alaska and Vancouver. On retirement, however, the Princess Louise berthed in Long Beach, California, where she served as a restaurant. It was during this time that "Assault" was filmed, perhaps explaining why Louise is only seen in relatively tight, stationary shots. Today, she rests near San Pedro, California, in whose channel she sunk in 1990.[1]
Reference
Ad blocker interference detected!
Wikia is a free-to-use site that makes money from advertising. We have a modified experience for viewers using ad blockers

Wikia is not accessible if you've made further modifications. Remove the custom ad blocker rule(s) and the page will load as expected.