Pilot Error was the fourth novel in the numbered Six Million Dollar Man range of paperbacks, published by Warner Brothers. It was adapted by Jay Barbree. It contained the novelization of the Edward J. Lasko-penned episode, Pilot Error. Author Barbree was best known for writing non-fiction books, including several co-authored with Martin Caidin. According to The Bionic Book, this episode was a particular favorite of Caidin's due to his interest in aviation; this may have had some bearing on the fact his frequent collaborator was commissioned to write the novel version.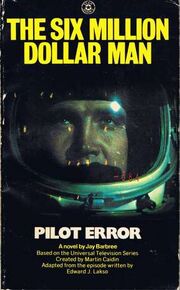 Ad blocker interference detected!
Wikia is a free-to-use site that makes money from advertising. We have a modified experience for viewers using ad blockers

Wikia is not accessible if you've made further modifications. Remove the custom ad blocker rule(s) and the page will load as expected.