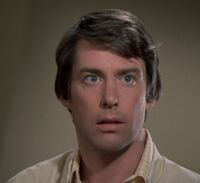 Perkins is the amorous boyfriend of Lisa Galloway. Both worked at Courtney Medical Clinic in Bethesda, MD. He refers to Lisa as his "Georgia peach", and likes to spend time alone with her as often as possible. Despite kissing both women quite passionately, he is unable to distinguish Lisa from the real Jaime Sommers.
Appearances
Ad blocker interference detected!
Wikia is a free-to-use site that makes money from advertising. We have a modified experience for viewers using ad blockers

Wikia is not accessible if you've made further modifications. Remove the custom ad blocker rule(s) and the page will load as expected.