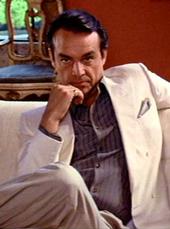 Biography
Paul Shenar (b. February 12, 1936 - d. October 11, 1989) was a member of the American Conservatory Theatre in San Francisco. He starred in many plays while with the group, including Tartuffe (with René Auberjonois), Oedipus Rex, and Cyrano de Bergerac, which was taped for PBS in 1974. Early in his career, Shenar guest starred in such series as Owen Marshall: Counselor at Law (1974), and Wonder Woman (1976). He also starred as "Orson Welles" in The Night That Panicked America (1975), "John Carrington" in Roots (1977), "Florenz Ziegfeld" in Ziegfeld: The Man and His Women (with David Opatoshu as his father, 1978), and in Suddenly Love (with Lew Ayres as his father, 1978). His films include The Secret of NIMH (voice, 1982), Scarface (1983), and Dream Lover (in which he once again portrayed Kristy McNichol's father, 1986).
External Links
Ad blocker interference detected!
Wikia is a free-to-use site that makes money from advertising. We have a modified experience for viewers using ad blockers

Wikia is not accessible if you've made further modifications. Remove the custom ad blocker rule(s) and the page will load as expected.