Paris, France was an occasional site of OSI operations.
In one mission involving Steve Austin and Oscar Goldman, a local Paris hospital was to have provided a pretext by which diplomat William Henry Cameron could have appeared to have been sick in France, while actually being in Beijing, China. The OSI plan called for Cameron to have made a very public entrance into the Paris hospital. Oscar Goldman would then give a statement to the press that Cameron had an ailment. While the press thought him resting, he would have been spirited away to secret talks in Beijing. "The Company" interfered with these plans, however, by kidnapping Cameron from under the noses of OSI personnel. (The Solid Gold Kidnapping)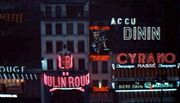 Later, an OSI investigation of art thieves brought Jaime Sommers to France. When the US Government learned of an art forging ring headed by Michael Beaumont, Oscar sent Jaime to Paris with the forger, Pierre Lambert. There, they switched the real DeJon painting with its fake counterpart at the Musée de Rousseau, before finally capturing Beaumont in Cannes. (The DeJon Caper)
External link
Ad blocker interference detected!
Wikia is a free-to-use site that makes money from advertising. We have a modified experience for viewers using ad blockers

Wikia is not accessible if you've made further modifications. Remove the custom ad blocker rule(s) and the page will load as expected.