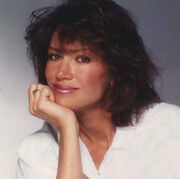 Guest Starred as Jenny
Biography
Pamela Hensley has co-starred (or guest starred) in many series, including Matt Houston, Marcus Welby, M.D., and Emergency!, but she is best known for her role as Princess Ardala in the film Buck Rogers in the 25th Century, and the TV series which followed the movie.
External Links
Ad blocker interference detected!
Wikia is a free-to-use site that makes money from advertising. We have a modified experience for viewers using ad blockers

Wikia is not accessible if you've made further modifications. Remove the custom ad blocker rule(s) and the page will load as expected.