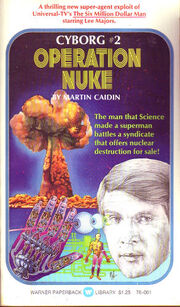 Operation Nuke was the second in the Martin Caidin-penned series of Cyborg novels. It was originally released by Arbor House in 1973. Its first paperback edition was released by the Warner Paperback Library in March 1974, but, unlike the two novels that followed it, it was not a part of the numbered series of Six Million Dollar Man novels.
The Warner edition did, however, add a numerical prefix which did not exist in any Arbor House edition, calling it, Cyborg 2: Operation Nuke. The Warner paperback edition contains an error in the cover art as it indicates that Steve's bionic eye is his right eye, not his left. Although not branded as part of the TV series-related book line, The Six Million Dollar Man is referenced in cover text, and the illustration of Austin is in the likeness of Lee Majors.
Ad blocker interference detected!
Wikia is a free-to-use site that makes money from advertising. We have a modified experience for viewers using ad blockers

Wikia is not accessible if you've made further modifications. Remove the custom ad blocker rule(s) and the page will load as expected.