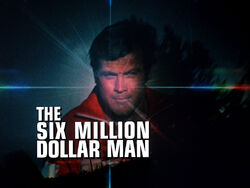 O Homem de Seis Milhões de Dólares (literally: The Six Million Dollar Man) was the title used for the Portuguese-dubbed version of the Six Million Dollar Man as seen in Portugal and Brazil.
The Six Million Dollar Man TV Show Intro (Brazil)
The Opening Narrations
"Steve Austin, astronauta. Um homem semi-morto. Senhores, nós podemos reconstruí-lo. Temos a capacidade técnica para fazer o primeiro homem biônico do mundo. Steve Austin será esse homem. Muito melhor do que era. Melhor, mais forte, mais rápido."
Voice Actors
| Character | Voice Actor |
| --- | --- |
| Steve Austin | - Jorgeh Ramos / André Filho |
| Jaime Sommers | - Marlene Costa |
| Oscar Goldman | - Mauricio Barroso |
| Rudy Wells | - n/a |
Weblinks