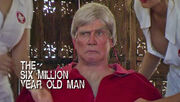 National Lampoon's TV: The Movie (also known as simply TV: The Movie) is a comedy film produced in 2006 and released in 2007 that consists of more than 50 short sketches parodying television programs and commercials. Among the stars is Lee Majors who appears in several roles, including playing a villain in a spy movie and a pitchman for hamburgers. Most notably, however, he appears in a parody trailer for a TV series entitled The Six Million Year Old Man. Austin, dressed in a red tracksuit similar to the one he wears in the opening credits of The Six Million Dollar Man, but made up to look geriatric, appears as "John Voston", an elderly car salesman who, as a narrator paroding Richard Anderson's dialogue from the opening credits says, can't be rebuilt or made younger. "We can't do a damn thing with him." Meanwhile, Oliver Nelson's theme music from the TV series plays on the soundtrack. The tagline: "Finally - a show for old people".
External link
Ad blocker interference detected!
Wikia is a free-to-use site that makes money from advertising. We have a modified experience for viewers using ad blockers

Wikia is not accessible if you've made further modifications. Remove the custom ad blocker rule(s) and the page will load as expected.