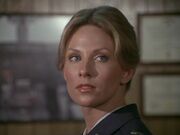 Nancy was a fembot created by Carl Franklin just prior to the second fembot crisis in 1977. She served as both Carl's assistant and operative.
Disguised as an Air Force Lieutenant, Nancy was part of a successful theft of The Directed Energy Ray Weapon.
Analysis for Fembot Replacement
Eyes: ( on the Fischer scale)
Hair: ( Fischer scale)
Skin Age: years
Voice Sampling: Volume Range DB
Regional Derivation: Region Intonations ( Halasc Reference)
Fembot Replacement process
Appearances
Ad blocker interference detected!
Wikia is a free-to-use site that makes money from advertising. We have a modified experience for viewers using ad blockers

Wikia is not accessible if you've made further modifications. Remove the custom ad blocker rule(s) and the page will load as expected.