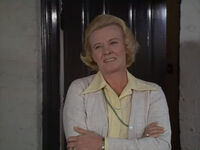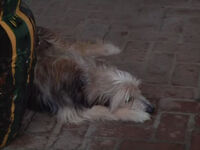 Mrs. Betty Noah was the current owner of Sommer's home and caretaker for Jaime Sommers' childhood dog, Puzzles. After running into Puzzle's at the cemetary, Jaime came to visit him. She asked Mrs. Noah if he had often gone there. She couldn't say; but she did know the only thing he seemed to chase was the occassional rabbit...which he unfortunately never caught. As Jaime prepared to leave, Mrs. Noah reminded her that it had been a while since she ast visited and she should come back again soon.
Noah would soon telephone Jaime about an incident that, at the time, she didn't feel was terribly relevent. A woman had stopped by to ask to look at the place, specifically Jaime's old room. Also, Mrs. Noah noticed that a number of yellow roses seemed to have been cut from the roses bushes outside. She just tought Jaime ought to know.
Appearances
Ad blocker interference detected!
Wikia is a free-to-use site that makes money from advertising. We have a modified experience for viewers using ad blockers

Wikia is not accessible if you've made further modifications. Remove the custom ad blocker rule(s) and the page will load as expected.