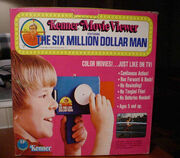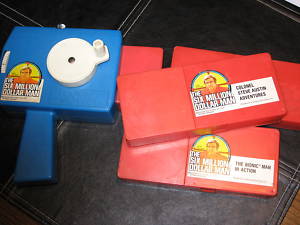 In 1975, Kenner added the Six Million Dollar Man Movie Viewer to it's growing line of toys for the franchise. It played film cartridges which would snap into the movie viewer. When looking through the viewfinder, one would turn the crank on the side to see the film forwards, or backwards.

The viewer itself was blue, while the film cartridges themselves were red. The viewer came with one cartridge .... " The Bionic Man in Action", and many more became available, sold seperately, in the next two years.
In 1976, Kenner added a Bionic Woman Viewer.
Cartridges Available
The Six Million Dollar Man
The Bionic Man in Action
Colonel Steve Austin Adventures
The Crash… and the creation of the Bionic Man
Bionic Feats
The Bionic Woman
Ad blocker interference detected!
Wikia is a free-to-use site that makes money from advertising. We have a modified experience for viewers using ad blockers

Wikia is not accessible if you've made further modifications. Remove the custom ad blocker rule(s) and the page will load as expected.