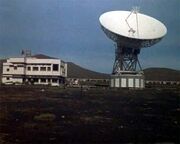 The Mount Harding Observation Station was a US Government facility in a remote western location. Ostensibly run by the Air Force, it was mainly a scientific research facilitiy. Its functionality was never clearly defined, but at least some of the facility's resources were devoted to processing satellite surveys of the Earth. The station used data from these surveys to conduct "holographic research". (The Night Demon)
Known employees of the station
Deconstructed
The "holographic research" conducted by the facility was never defined, even though Sgt. Woods attempts to give an explanation. What he's describing, though, seems a bit more like an early GIS than true holography.
The exact location of the station is never defined, although it was described by Hawkins as being "a couple hundred miles of twists and turns" from Las Vegas. Because the implication of the episode is that Jaime was driving from Ojai to see Thomas Bearclaw — and since Bearclaw lived close enough to Jaime to be a "guest lecturer" in her classroom — the station would most likely be much closer to Ojai than Las Vegas. A likely location "a couple hundred miles" away from Las Vegas would be somewhere around Barstow, California.
Ad blocker interference detected!
Wikia is a free-to-use site that makes money from advertising. We have a modified experience for viewers using ad blockers

Wikia is not accessible if you've made further modifications. Remove the custom ad blocker rule(s) and the page will load as expected.