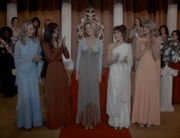 Miss Tennessee is a contestant in the Miss United States Beauty Pageant. During the pre-recorded talent segment, she showcases her skills at baton twirling. However, she is a bit nervous and drops the flaming baton due to the fact that this is the first time she attempted it with flames. Nevertheless, she is announced as one the five finalists in the Pageant.
Appearances
Ad blocker interference detected!
Wikia is a free-to-use site that makes money from advertising. We have a modified experience for viewers using ad blockers

Wikia is not accessible if you've made further modifications. Remove the custom ad blocker rule(s) and the page will load as expected.