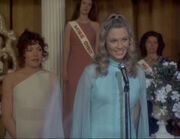 Miss Oklahoma is a contestant in the Miss United States Beauty Pageant. She is selected as one of the five finalists. During the interview portion of the contest, she reveals that she plays the saxophone in an all girl jazz band. Her ultimate goal would be to fill the world with music.
Appearances
Ad blocker interference detected!
Wikia is a free-to-use site that makes money from advertising. We have a modified experience for viewers using ad blockers

Wikia is not accessible if you've made further modifications. Remove the custom ad blocker rule(s) and the page will load as expected.