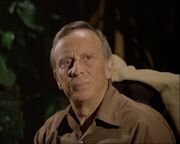 Milt Bigelow is the manager of the Olympic Sports Auditorium, which specializes in lady wrestling. Bigelow conspired with Dr. Brandes and "Mad" Mary Maddox in a plot to steal the Delta Circuit module and sell it to foreign agents during a wrestling match.
Quotes
Bigelow: (to "Amazon April") Pound the mat a little harder. Harder! Like you're suffering, not like you're making pizza.
Appearances
Ad blocker interference detected!
Wikia is a free-to-use site that makes money from advertising. We have a modified experience for viewers using ad blockers

Wikia is not accessible if you've made further modifications. Remove the custom ad blocker rule(s) and the page will load as expected.