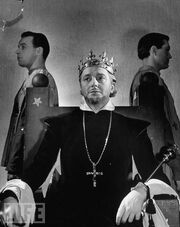 Maurice Evans (born June 3, 1901, Died March 12, 1989) was an accomplished and revered Shakesperean actor. He holds the record for playing the title role in Hamlet on Broadway for the longest consecutive period ( 1938-1946), and he in fact, played the role before in England in 1934. He has also performed more television productions of Shakespeare than any other actor. His role as The Chairman in The Solid Gold Kidnapping is the only time he would grace the bionic franchise with a performance. He was a member of the Batman 1966 guest villain roster as "The Puzzler", and has visited the horror genre in "Rosemary's Baby" He is perhaps best known in the television world as Maurice, Samantha's father in the classic sit-com "Bewitched", and to Sci-Fi fans as "Dr. Zaius in 1968's "Planet of the Apes", and 1970's " Beneath the Planet of the Apes". Maurice died of heart failure as a result of a bronchial infection, at aged 87.
Ad blocker interference detected!
Wikia is a free-to-use site that makes money from advertising. We have a modified experience for viewers using ad blockers

Wikia is not accessible if you've made further modifications. Remove the custom ad blocker rule(s) and the page will load as expected.