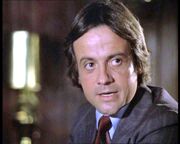 Matthews is employed by Dr. James Courtney at the Courtney Medical Clinic in Bethesda, MD. He is the contact man for Lisa Galloway. At "The Pump Room" bar, Matthews says the only way Lisa drinks Scotch is on the rocks.
Appearances
Ad blocker interference detected!
Wikia is a free-to-use site that makes money from advertising. We have a modified experience for viewers using ad blockers

Wikia is not accessible if you've made further modifications. Remove the custom ad blocker rule(s) and the page will load as expected.