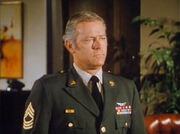 Master Sgt Vince Parnell is assigned the task of requisitioning an automobile, fishing equipment, clothes, luggage, and personal effects for Col. Steve Austin and Major Fred Sloan. He is also working for Dr. Dolenz to kidnap Sloan and replace him with a duplicate robot.
Appearances
Ad blocker interference detected!
Wikia is a free-to-use site that makes money from advertising. We have a modified experience for viewers using ad blockers

Wikia is not accessible if you've made further modifications. Remove the custom ad blocker rule(s) and the page will load as expected.