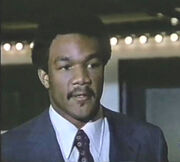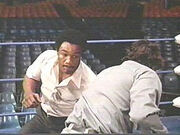 Marcus Grayson was a former boxer turned OSI operative hired by Oscar Goldman to watch Steve Austin's back during a sting operation mission.
Ultimately, Grayson finds himself taking part in a battle royale fight aiding Steve, though not before Steve initially mistakes him for a bad guy and delivers a bionic punch, which Grayson just shrugs off.
He is played by real-life boxing star George Foreman.
Appearances
Ad blocker interference detected!
Wikia is a free-to-use site that makes money from advertising. We have a modified experience for viewers using ad blockers

Wikia is not accessible if you've made further modifications. Remove the custom ad blocker rule(s) and the page will load as expected.