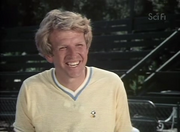 The Man on Tennis Court is a resident of Ojai, CA. He enjoys playing tennis with his friend Armando, or any stranger that is willing to hit a couple back. In one instance, he invited a young woman to play, and despite feeling he was hustled, he is excited when he realizes that it is none other than tennis pro Jaime Sommers.
Appearances
Ad blocker interference detected!
Wikia is a free-to-use site that makes money from advertising. We have a modified experience for viewers using ad blockers

Wikia is not accessible if you've made further modifications. Remove the custom ad blocker rule(s) and the page will load as expected.