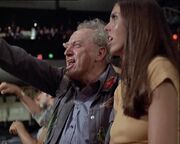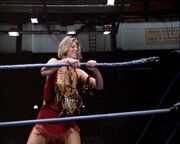 While attending the World's Championship Tag Team Challenge Event for Women at Olympic Sports Auditorium, the Man was observed shouting from the audience.
Quotes
(After watching Jaime Sommers in her Pocahontas-style wrestling costume detach the turnbuckle with her bionics)
Man: "Hey, look at the phony rope! What a great show!"
Man: "Go get her Geronimo! Give it to her girl! Lay it on her! Give it to her!"
Appearances