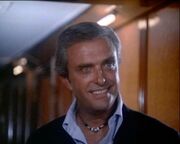 Lucky Harrison is a sharp professional gambler and owner of The Princess Louise, a gambling ship.
Fast Facts
Government warrant issued for his arrest.
Lucky served in the Navy on an aircraft carrier.  He ran an illegal gambling operation on the carrier.  When his operation was discovered, he went AWOL.
Has a reputation of doing anything for a fast buck.
Likes his women gutsy and beautiful.
Appearances